---
The Centredale Fire Dept's 100th Anniversary history book is still available. Copies are $10 each ($5 plus $5 postage if mailed to you); please contact Eric Bazzle, or click HERE to order your copy.
---
The first Centredale fire station was constructed in 1907 as a single-bay barn for the hose reel: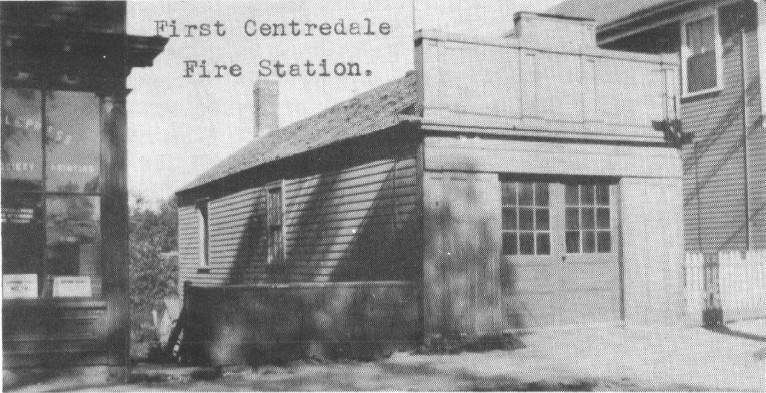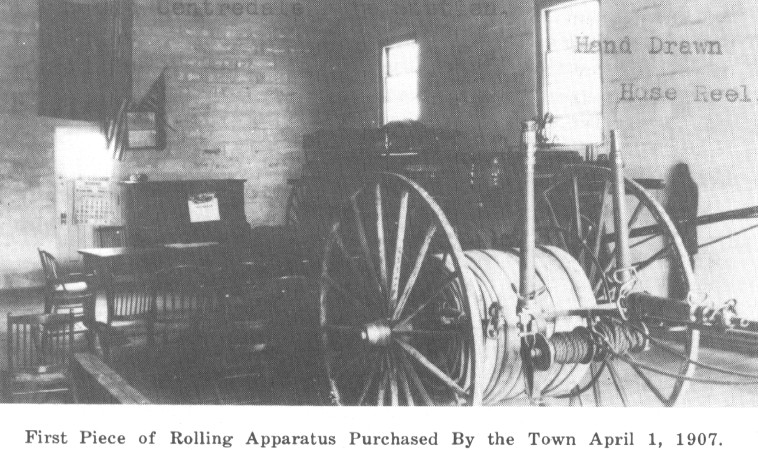 In 1922, this station was replaced by a newer, more substantial building on the same site: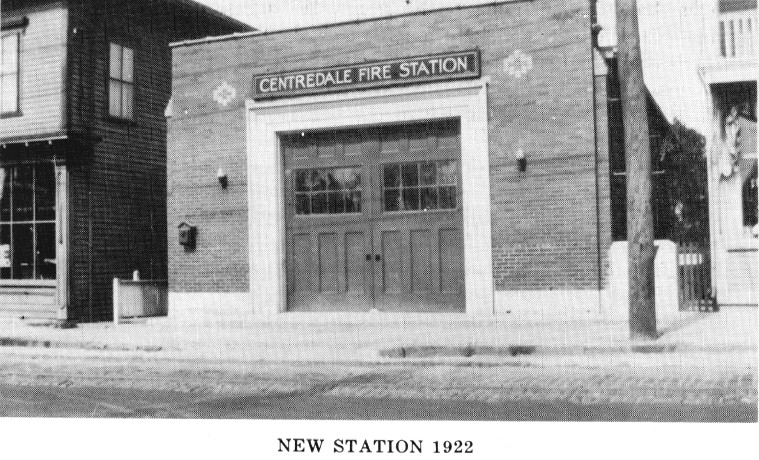 In 1924, the department acquired its first motorized apparatus ("Old Betsy"), an engine, and by 1931 its first ladder truck.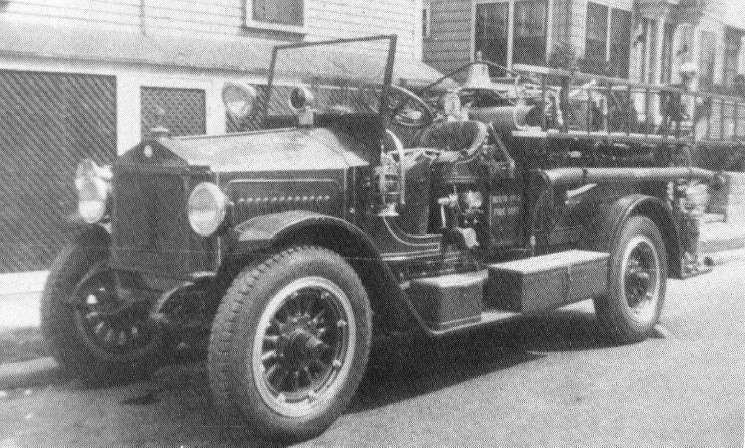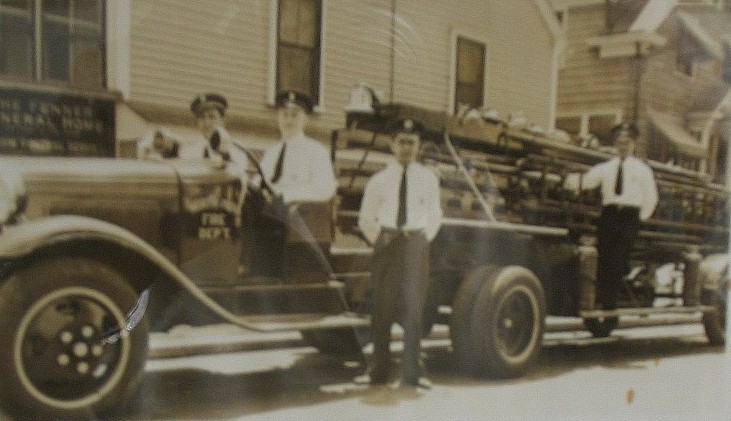 This made it necessary to reconfigure the existing station into two bays, and in 1935, the building was reconstructed: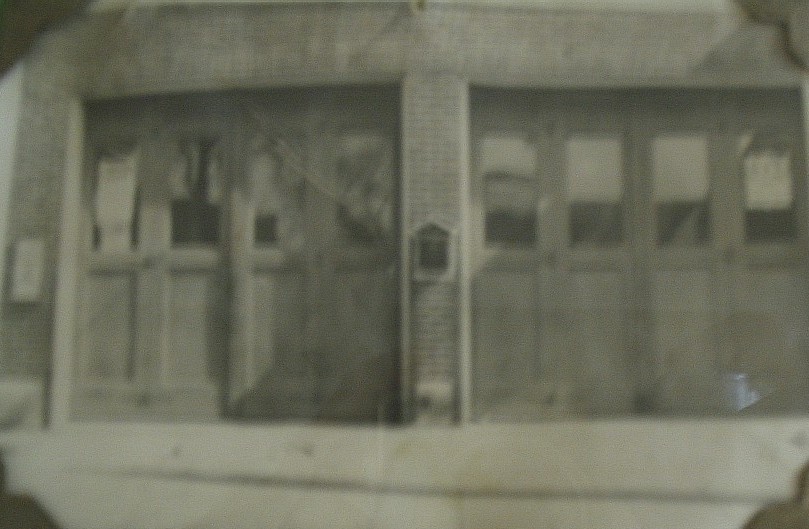 A new ladder truck was acquired in 1942, with a trailer refurbished by the members: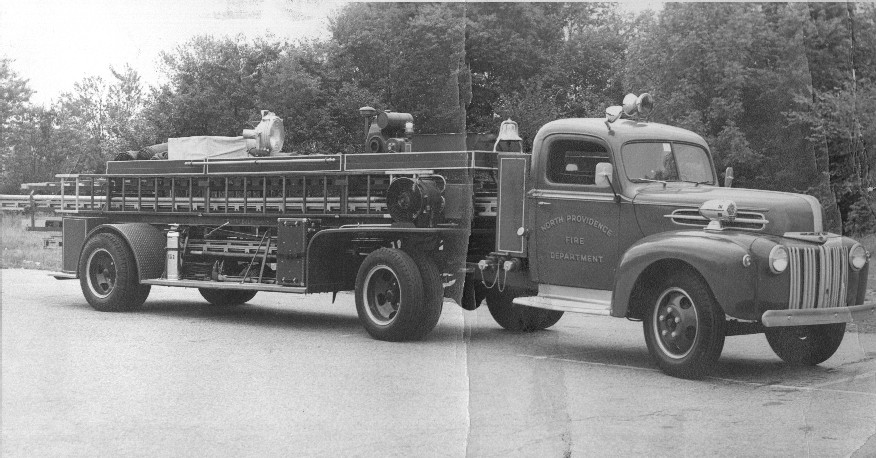 In 1946, the first engine was finally retired and replaced by a new pumper: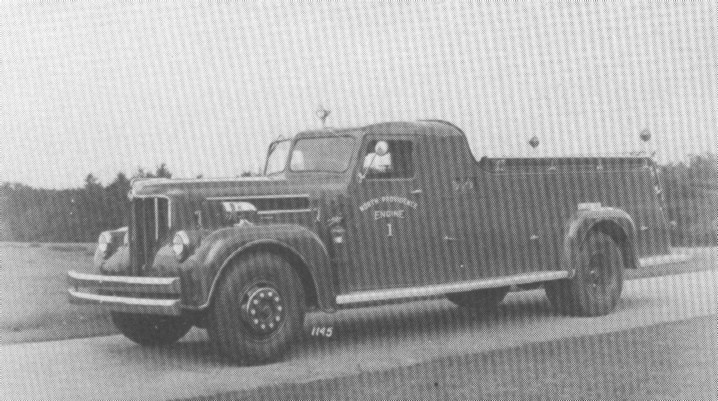 In 1955, a brand new station was built on the same site as the previous two stations, at 1995 Smith Street: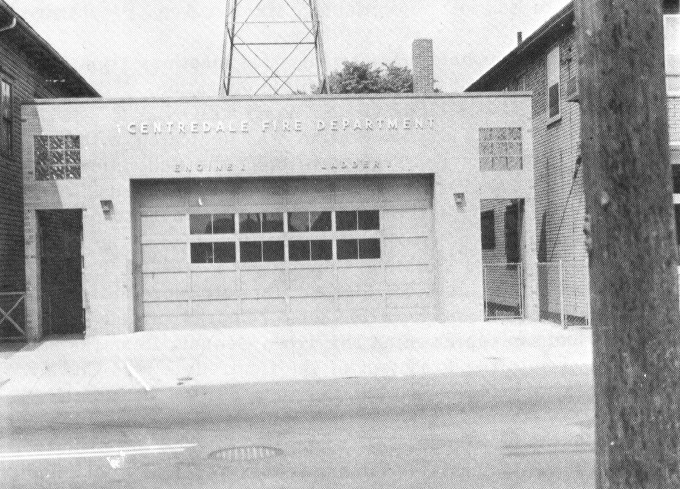 In 1960, a new Maxim 75' mid-mount aerial was delivered as the new Ladder 1. It had the first intercom system from aerial tip to platform of any truck in Rhode Island, was specified with a narrow cab to negotiate the streets, and had 'arrow' turn signals for better visibility.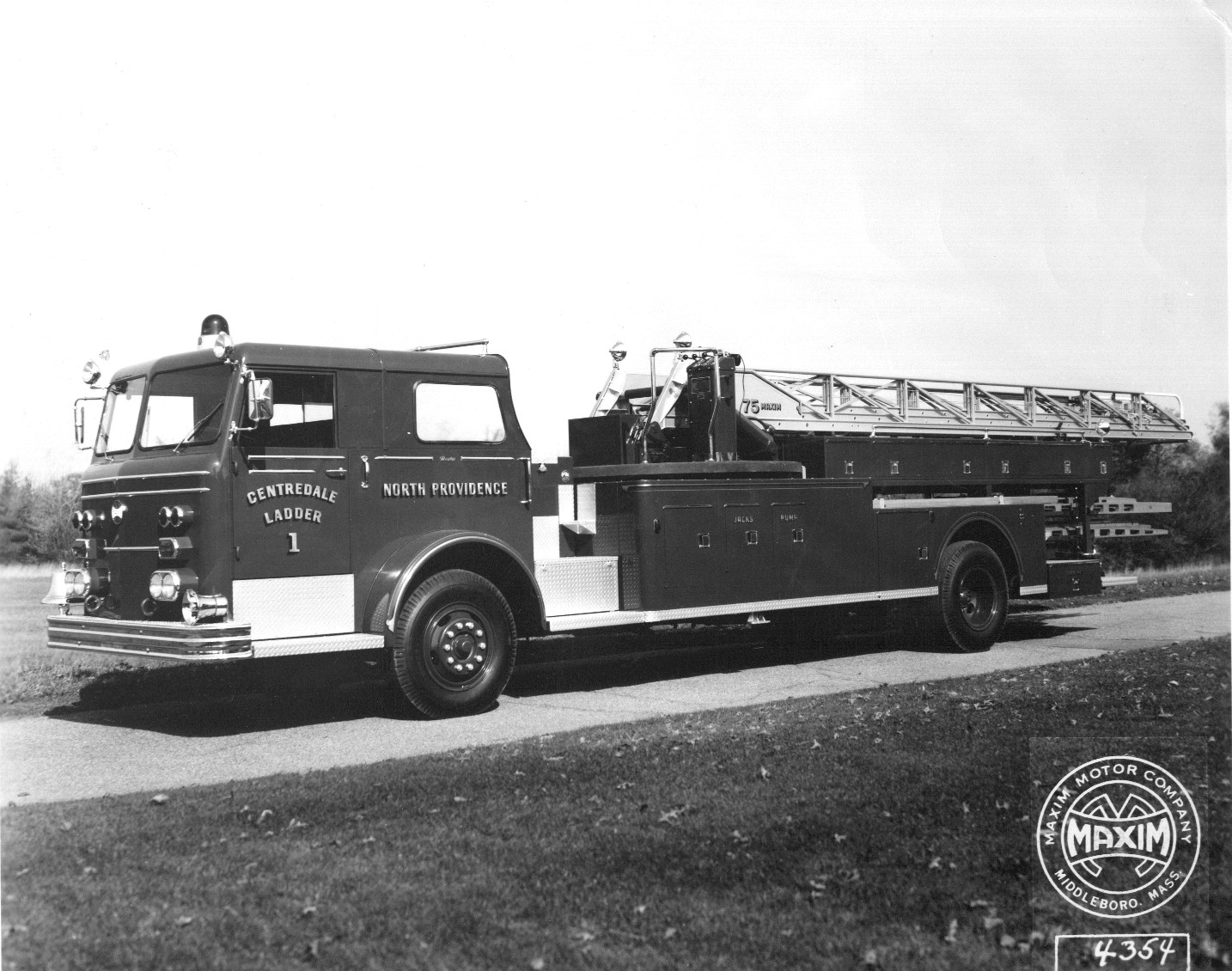 In 1979, the gasoline-engine 5-speed driveline was replaced with a Detroit Diesel 6 and Allison 4-speed automatic transmission. In 1983, it was refurbished at a cost of $43,000 (same as its purchase price), was repainted white-and-red with new gold leaf, and pump and water tank converted to compartment space. In the 1990s minor cosmetic changes were made to its lights, siren, etc.
This truck served until 1992, was then run as reserve Ladder 2 for another 11 years, before becoming unsuitable to run as a duty piece. It was stored behind station 2, and was finally sold to the Grimes family (former firefighters) to preserve and possibly run as a parade piece. Since then, a member of NPFD has bought the truck.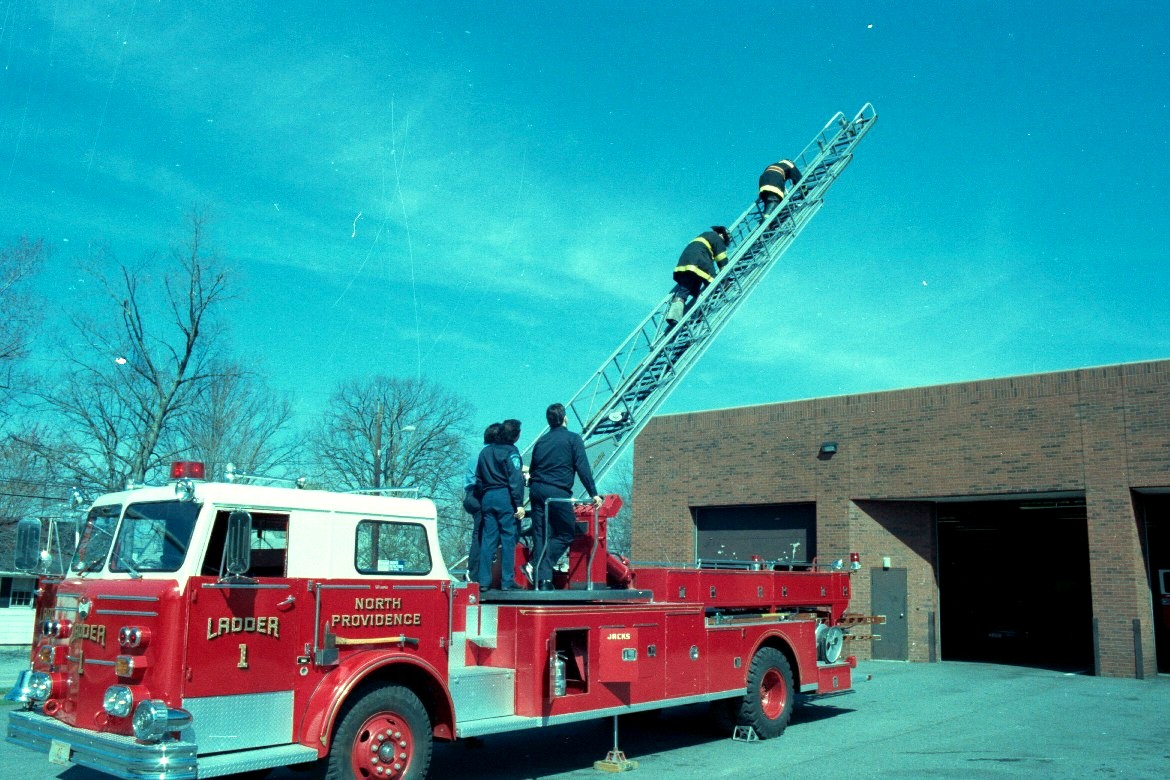 c1987, in front of current Station 1
By 1971, the engine needed replacing, and a new 1250 GPM 500-gallon tank pumper was purchased from Maxim. It lasted until 1991: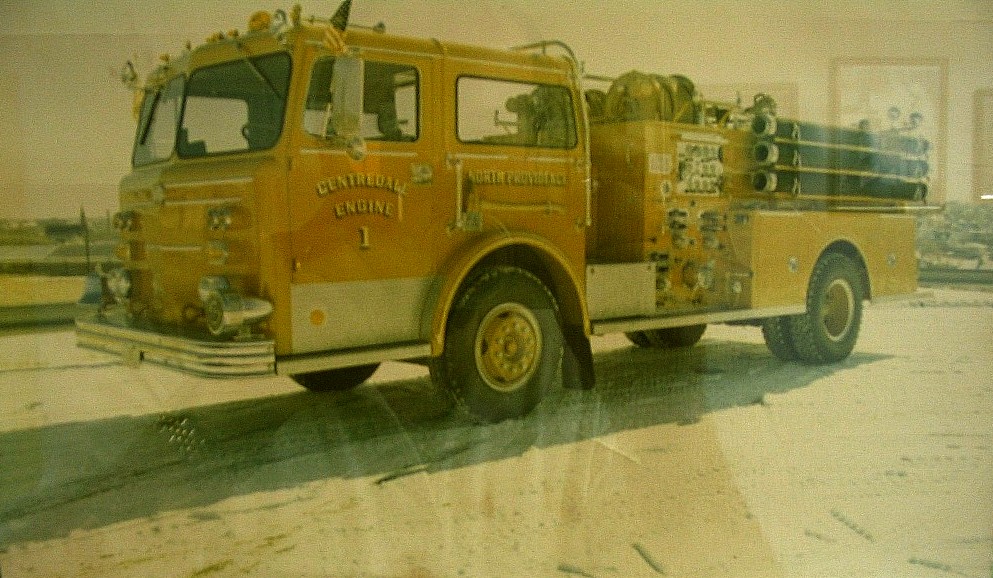 This same year, recognizing that the town was growing ever-busier, 10 firefighters were hired full-time to man 4 engines and one ladder. They worked Monday-Friday, 7:30 pm to 4:30 pm, later supplemented by a call system which manned the stations on nights, weekends and holidays on a rotating shift. In this manner, round-the-clock protection was given the town without a large budget. Members were paid every six months for hours spent manning the apparatus (rather than hours worked at fires).
In 1974, a new police-fire headquarters was built at 1967 Mineral Spring Avenue, taking the Centredale companies out of the village for the first time and locating them along a busy commercial stretch. EMS was formally established in 1977 with the creation of Rescue Co. 1, a Chevy type I chassis with 454 CID V-8: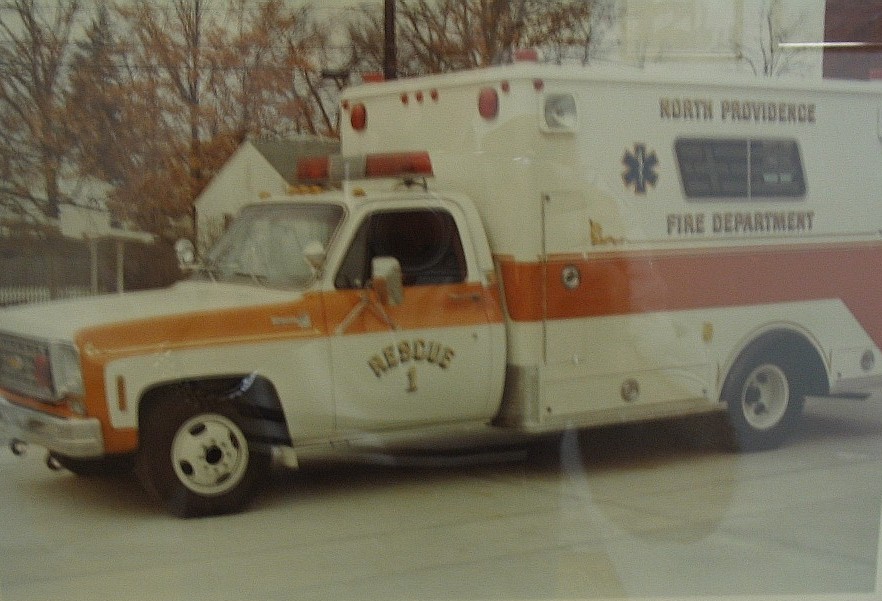 In August of 1989, after several years of increased activity and attrition within the call system ranks, North Providence Fire Dept became a fully-paid career department, with approximately 104 firefighter/EMTs running 4 engines, a ladder, 2 ALS rescues, a boat and a decontamination unit. Most of the permanent force was hired from the call system, ensuring a seamless transition to guaranteed service for the town from the same dedicated men and women who had protected it for so many years.
As the Centredale Fire Dept, Incorporated enters its second 100 years, its members look back with pride on their multi-faceted service to the community, and extend a warm welcome to members of the career force to continue that involvement with them, to join the ranks of those who are the living history of their firefighting tradition and heritage, and appreciate and help preserve the history of the dedicated and capable efforts of the fire departments of the town of North Providence.

the webmaster
See npfire.com for info on the North Providence Fire Dept to date.