Monument ceremony - On Sunday, May 22, 2005 at 10:00 a.m., a memorial was dedicated at the site of old Station 1, 1995 Smith Street. This memorial, designed, funded and created by the members, consists of a sidewalk display permanently set in front of the station. A large stone set in concrete, brick, gravel and landscaping, bearing a bronze plaque, commemorates the original site of the Centredale Fire Department and all of its members.
President Raymond Parenteau gave the dedication speech, followed by the blessing from Reverend Kenneth Erickson, former volunteer, call and recently-retired career firefighter. Mayor A. Ralph Mollis and Chief Steven Catanzaro were unable to attend due to prior commitments. The weather held off, and the sun actually broke through as the monument was unveiled. Refreshments were served afterward.
The old Ladder 1, recently retired as reserve Ladder 2 (1960 Maxim), put in an appearance. Joseph Grimes has rescued it from oblivion and found it to be already in good running order. Only minor cleaning and cosmetics have been done, yet it still looks like a first-run apparatus. Our grateful appreciation goes to the Grimes family.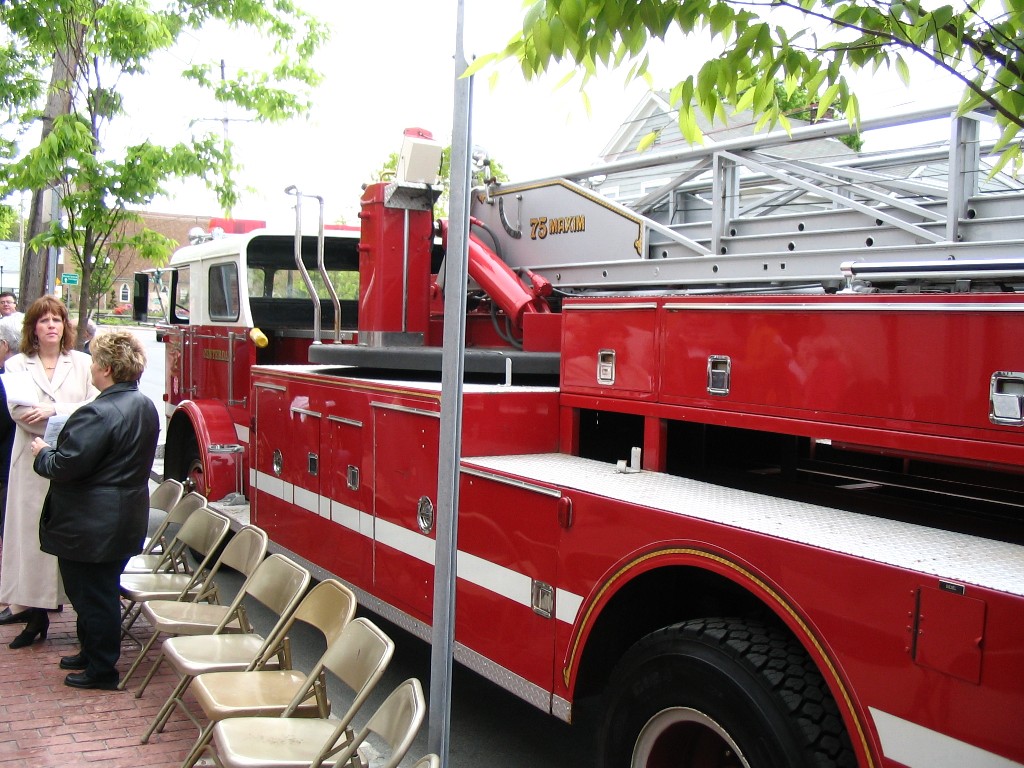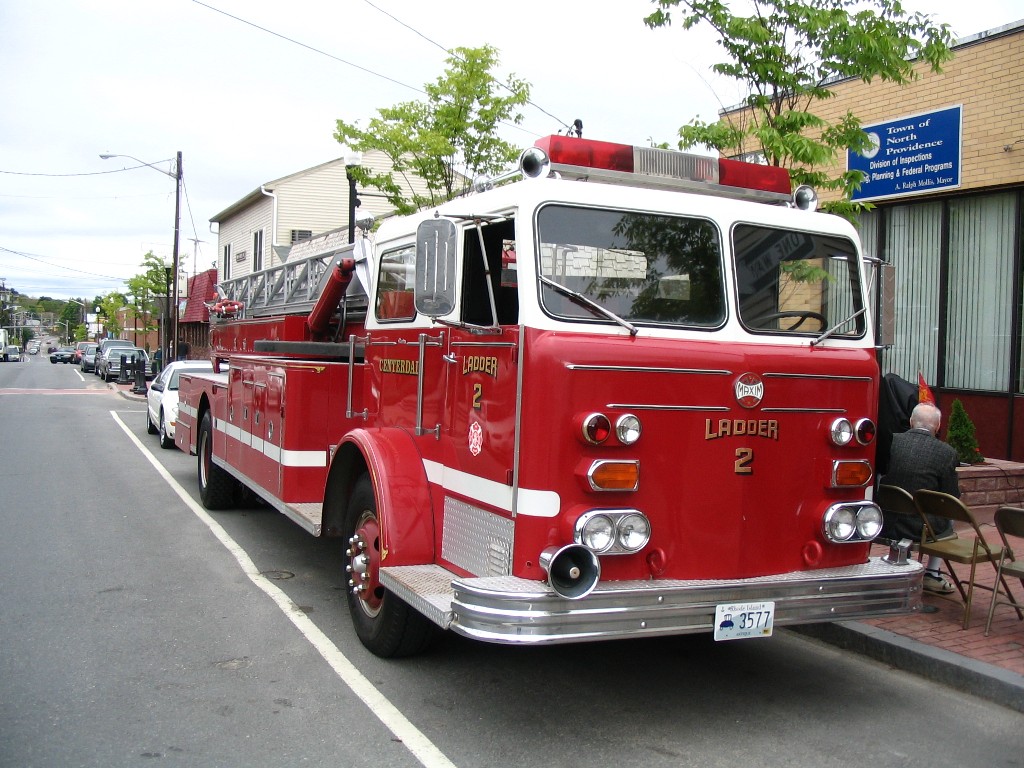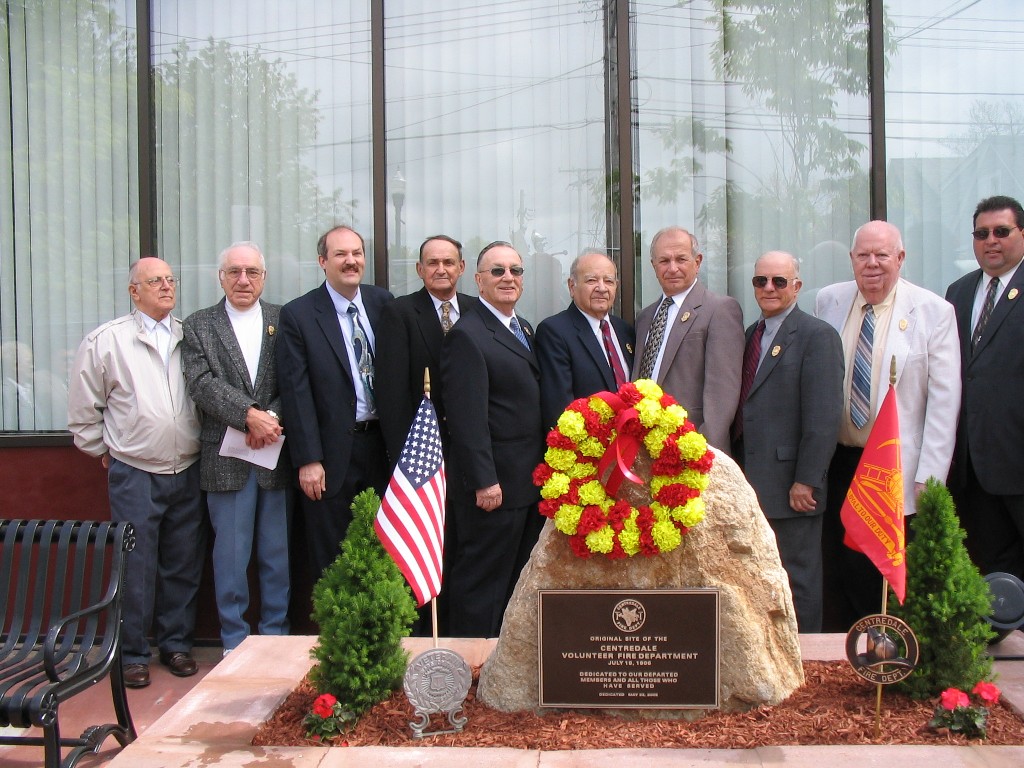 The Committee: Bernie DiGiulio, Herb Venava, Bob Lincoln, Bill DiGiulio, Ray Parenteau, Danny DiBattista, John Murphy, Jr, Jack Ward, Joe Grimes, Eric Bazzle.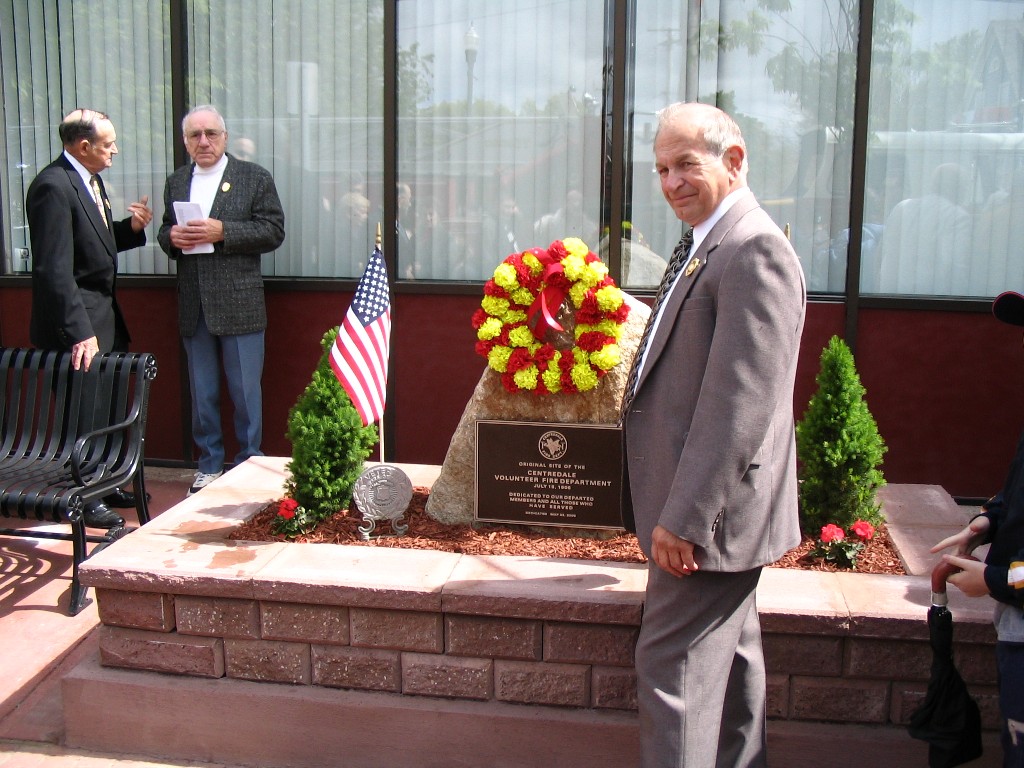 John P. Murphy, Jr - last Centredale District Chief.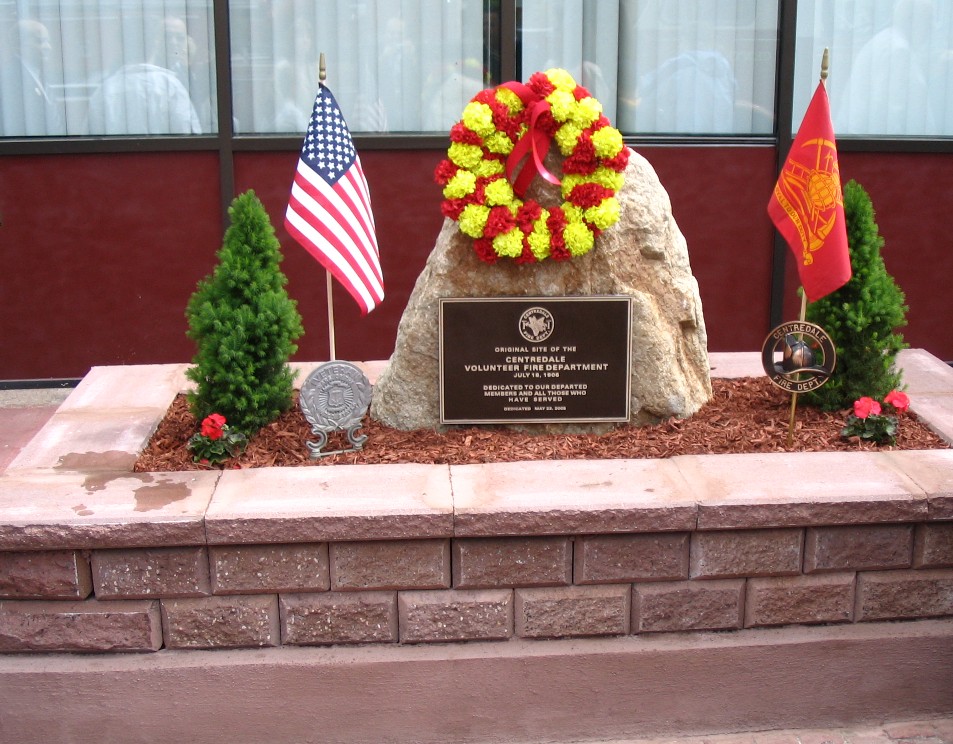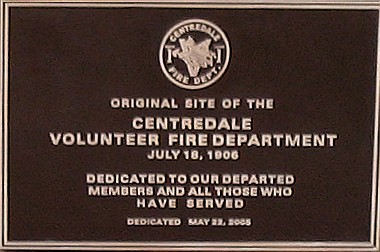 In Memoriam – our departed members
Angell, Frank C.
Angell, Raymond
Archembault, George
Batchelder, Earl
Batchelder, Geo. T.*
Batchelder, John P.*
Bazzle, Jack O.*
Borello, Albert*
Brown, Charles H.
Brousseau, Albert
Burnside, Matthew
Butera, Mariano*
Caffesso, John
Caranci, Anthony
Cardarelli, G. Frank*
Cardarelli, John*
Cardarelli, Pietro*
Charbonneau, Al.
Charbonneau, Charles*
Charbonneau, W.*
Charbonneau, W. D.*
Charpentier, J. Omer*
Chew, Norris*
Chew, Norris
Clark, William*
Darby, Harold Sr.*
Darby, Walter*
DeFelice, Thomas*
DiGiulio, Ernest Jr.*
DiGiulio, Ernest Sr.*
Draper, William Sr.*
Draper, William Jr.
Fenner, Herbert A.
Fogarty, Michael F.*
Fogarty, Thomas*
Forgue, Charles*
Forgue, Lawrence*
Gilson, Charles F.*
Hawkins, William*
Heap, Fred*
Hill

,

George
Iafrate, Arialdo*
Iafrate, Frank J.*
Jette, Eugene*
Laboissonniere, G.*
Laboissonniere, R.*
Mancini, Salvatore*
Marwell, Charles Jr.*
Marwell, Raymond
Marwell, Robert*
Marzucca, Charles
Marzucca, Joseph*
McGuire, James L.
Milson, Donald E.
Milson, Elwin F.
Mollo, John*
Mollo, Joseph
Morin, Norman*
Morin, Pietro
Murphy, John P. Sr.*
Murphy, Walter E.*
O'Reilly, James*
Pelland, Oscar*
Pheland, John J.
Rhodes, John
Rotella, Francesco*
Russo, Thomas*
Sgambato, Frank*
Simmons, Ernest
Simpson, Elmer E.
Sloan, James*
Sparadeo, Robert D.*
Sweet, Earl W.
Sweet, George W.
Sweet, Louis*
Tabor, William
Tate, Robinson
Theroux, Arthur*
Trahan, Napoleon
Venava, Sullivan W.*
Whelan, George
Zambarano, L.*
*Life Member